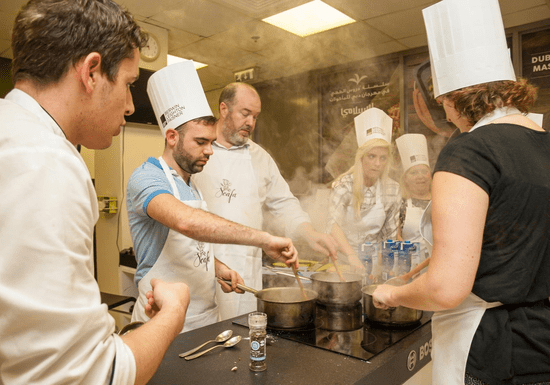 Description:
A complete package for all cooking enthusiasts, from complete beginner to experienced hobbyists, anyone can take this cuisine class. In a 30 hour (10 sessions x 3 hours) structured program, you will learn from professional chefs the right cutting techniques to prepare your food, understand how to make soups, pizza & pasta from scratch, prepare and cook a variety of main course dishes including meat & seafood and finally, bake some of the most popular desserts!
Course plan:
Session 1: Knife skills (mayonnaise, vinaigrette, Olivier & cobb salad)
Session 2: Eggs & vegetables (eggs benedict, Hollandaise, ratatouille & quiche)
Session 3: Starches (gnocchi, ravioli, risotto, potato dauphinoise, tomato sauce)
Session 4: Poultry (stuffed chicken leg, breaded chicken, duck Margaret, chicken ballotine)
Session 5: Red meat (tenderloin & béarnaise, lamb chops, veal scallopini, steak tartare)
Session 6: Fish & shellfish (ceviche, garlic prawns, fish & chips, papillote)
Session 7: Baking & desserts (molten cake, pizza lemon tart, pate sucree)
Session 8: International Cusine I - 3-course meal from France (or) Japan (or) Middle-east
Session 9: International Cusine II - 3-course meal from Italy (or) Thailand (or) Mexico
Session 10: International Cusine III - 3-course meal from Spain (or) Latin America (or) India
Materials:
All materials will be provided
Cancellation Policy:
48 hours prior to course start with full refund
Age Requirements:
14 and older
Additional Info:
* Upon completion participants will receive a SCAFA certificate attested by KHDA for an additional fee of AED 100 (optional)
* The sessions can start in a different order depending on the selected schedule
* The International cuisine sessions are pre-fixed depending on the batch you choose
Location:
Unit 6, Promenade Level, Cluster I
Jumeirah Lakes Towers - JLT
Dubai
Reviews
Ihana Krishnan
Fri, 27th Jul, 12:18PM
"My daughter enjoyed her class. The teaching style was easy and friendly very suited for 10 year olds. She would've liked to do more than 3 recipes in the class perhaps a drink or a cocktail to go with the menu"
Jiana El Khatib
Fri, 6th Jul, 3:41PM
"Fun class and experience. Learned a lot of new things in a short period of time!"
Show More