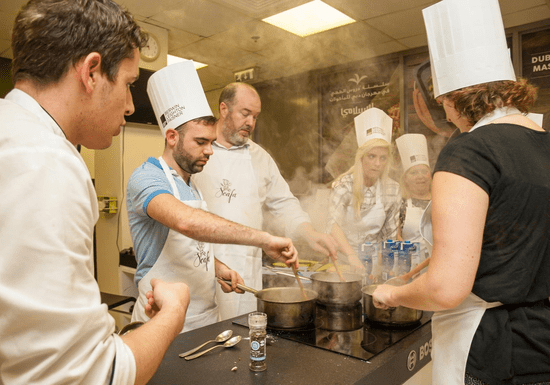 Description:
A complete package for all cooking enthusiasts, from complete beginner to experienced hobbyists, anyone can take this cuisine class. In a 30 hour (10 sessions x 3 hours) structured program, you will learn from professional chefs the right cutting techniques to prepare your food, understand how to make soups, pizza & pasta from scratch, prepare and cook a variety of main course dishes including meat & seafood and finally, bake some of the most popular desserts!
Course plan:
Session 1: Knife skills (mayonnaise, vinaigrette, Olivier & cobb salad)
Session 2: Eggs & vegetables (eggs benedict, Hollandaise, ratatouille & quiche)
Session 3: Starches (gnocchi, ravioli, risotto, potato dauphinoise, tomato sauce)
Session 4: Poultry (stuffed chicken leg, breaded chicken, duck Margaret, chicken ballotine)
Session 5: Red meat (tenderloin & béarnaise, lamb chops, veal scallopini, steak tartare)
Session 6: Fish & shellfish (ceviche, garlic prawns, fish & chips, papillote)
Session 7: Baking & desserts (molten cake, pizza lemon tart, pate sucree)
Session 8: International Cusine I - 3-course meal from France (or) Japan (or) Middle-east
Session 9: International Cusine II - 3-course meal from Italy (or) Thailand (or) Mexico
Session 10: International Cusine III - 3-course meal from Spain (or) Latin America (or) India
Materials:
All materials will be provided
Cancellation Policy:
48 hours prior to course start with full refund
Age Requirements:
14 and older
Additional Info:
* Upon completion participants will receive a SCAFA certificate attested by KHDA for an additional fee of AED 100 (optional)
* The sessions can start in a different order depending on the selected schedule
* The International cuisine sessions are pre-fixed depending on the batch you choose
Location:
Unit 6, Promenade Level, Cluster I
Jumeirah Lakes Towers - JLT
Dubai
There are no available schedules for this class currently. If you are interested in this class please let us know by providing your email address in the form below, we will contact you once a schedule becomes available.
Reviews
Nilufer Bhathela
Sun, 11th Nov, 7:40PM
"Enjoyed the class."
Tanya Kumar
Sun, 11th Nov, 3:33PM
"Enjoyed the Class, just the group was too big :("
jessy sabbagh
Sun, 4th Nov, 12:08PM
"Good Instructor. The sous chef was a bit lost and gave few wrong instructions."
Show More