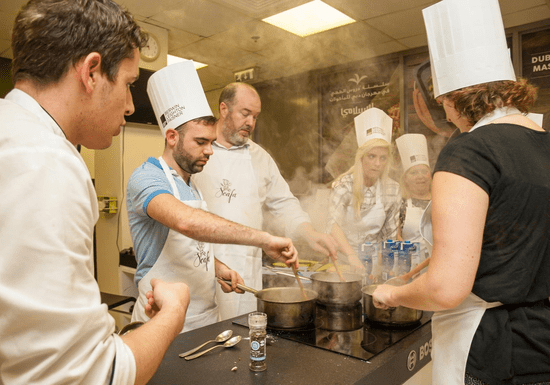 Description:
A complete package for all cooking enthusiasts, from complete beginner to experienced hobbyists, anyone can take this cuisine class. In a 24 hour (8 sessions x 3 hours) structured program, you will learn from professional chefs the right cutting techniques to prepare your food, understand how to make soups, pizza & pasta from scratch, prepare and cook a variety of main course dishes including meat & seafood and finally, bake some of the most popular desserts!
Course plan:
Session 1: Knife skills (mayonnaise, vinaigrette, Olivier & cobb salad)
Session 2: Stocks & Soups (Chicken & Veg stock, Potage Parisienne, French Onion Soup)
Session 3: Eggs & vegetables (eggs benedict, Hollandaise, ratatouille & quiche)
Session 4: Starches (gnocchi, ravioli, risotto, potato dauphinoise, tomato sauce)
Session 5: Poultry (stuffed chicken leg, breaded chicken, duck Margaret, chicken ballotine)
Session 6: Red meat (tenderloin & béarnaise, lamb chops, Hollandaise, steak tartare)
Session 7: Fish & shellfish (ceviche, garlic prawns, fish & chips, papillote)
Session 8: Baking & desserts (molten cake, pizza lemon tart, pate sucree)
Materials:
All materials will be provided
Cancellation Policy:
48 hours prior to course start with full refund
Age Requirements:
14 and older
Additional Info:
* Upon completion participants will receive a SCAFA certificate attested by KHDA for an additional fee of AED 100 (optional)
* The sessions can start in a different order depending on the selected schedule
Location:
Unit 16, Promenade Level, Cluster I
Jumeirah Lakes Towers - JLT
Dubai
Reviews
Ma Shirley Elle
Sun, 17th Mar 2019, 2:05PM
"Super love the Food especially paella my favorite. Gazpacho healthy cold soup especially meant for summer, the simple street food called patatas bravas the sauce is so yummy and the dessert cant wait to make it at home."
Chirine Mikati
Tue, 12th Mar 2019, 2:58PM
"I would recommend the class to a friend - I would've liked more introduction at the beginning of the class. Some of the details in the recipe sheet were missing. "
Ameera Alblooshy
Sun, 10th Mar 2019, 3:14PM
Show More