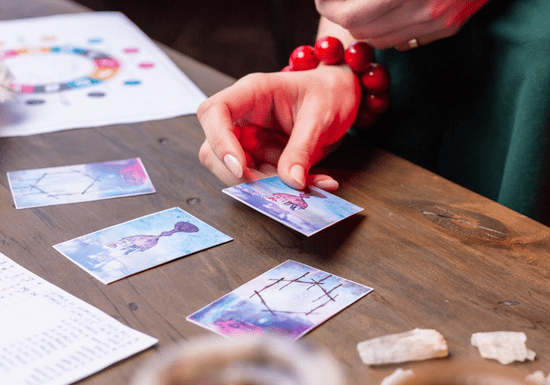 Description:
Open your intuition and natural spiritual abilities to receive accurate information during your card readings by gaining a deeper spiritual connection, expand your intuitive skills and access the guidance you need to make important decisions in your life!
Oracle Cards are the easiest way to get clear answers, especially if you're stressed, worried, or sensitive to the energies of this complicated world. In this private 3-hour session, you will learn how to read oracle or angel cards to cater to yourself or your clientele. Whether you want to give yourself a daily reading or have a calling to offer readings and guidance to others, you'll learn all you need to know to give an insightful card reading with confidence and clarity. You will be taught by a professional card reader, who will take you through every step.
What will you learn:
Who your Guardian angel is
Different types of Angels
Meditation with Angels
What type of Angels are we?
Understanding Angel Numbers
How to hear our angels, receive signs and messages
How to ask for help from angels
How to give a reading for your clients and do a reading for yourself
How to prepare your cards by consecrating, clearing the energy, and blessing
How to properly shuffle, layout, and store cards after a reading, including how to deal with a jumping card, upside-down card, and who should and should not touch your cards
Materials:
Angel Cards and Manual will be provided for use during the session. You can purchase your own deck from the center for personal use
Validity Period:
All sessions are valid for 30 days upon booking
Age Requirements:
18 and older
Additional Info:
Students will receive a certificate upon completing the class
Session may run up to 4 hours if needed
Free parking is available at the location
Location:
Office 701
Yes Business Tower
Al Barsha
Dubai
Reviews
Mouza Alzaabi
Thu, 10 Feb 2022, 7:18PM
"Very nice class instructor was very nice and friendly "
Penelope Dean
Mon, 19 Dec 2022, 1:43PM
"great instructor and will definitely book again!"
Nataliya Kuijken
Mon, 30 Jan 2023, 12:52PM
"Great instructor, flexible booking possibilities"
Show More