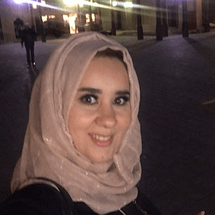 Amal Sabrawi
Amal Sabrawi is a Lebanese mother of two, who found her passion for the art of soap making when she was working at The Body Shop.
In 2017, she launched her own organic soap and skincare career, where she began her journey of making differently flavored and scented products.
She is passionate about what she does and aims to teach her students how to make their own organic soaps, candles, and bath bombs.
Reviews on Amal Sabrawi
Hamda Al Falasi
Sun, 15 Aug 2021, 5:51PM
"I have learned so much from Ms.Amal in only 3hrs. She was an excellent teacher and very passionate about this course. I took home multiple candles with my chosen scents. Thank you so much Ms.Amal I have enjoyed this class and I will recommend it to everyone I know. "
Binal Desai
Mon, 12 Jul 2021, 9:48PM
"I had a great experience with Ms. Amal she is very humble and knowledgeable when it comes to crafting candles. She has not only taught me how to make a perfect candle but also shared her experience about buying the resources from correct place and price. Indeed a great learning it was. She also gave me nearly 6 combination candles which we made in class and 2 floating and 1 car hanging. Wow that's a lot to take back the money that I paid for class. "
Merline Lewis
Wed, 30 Jun 2021, 4:31AM
"Took this class with my sister's and we all agreed that this class was awesome it's worth the price. Amal the instructor was very very nice, she explained everything perfectly, didn't regret not a moment. A great teacher, and we would recommend her to everyone. We get to take home our candles and we can't wait to light them. If anyone is looking for candle classes please book with Amal, she's great."
Show More