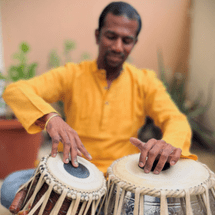 Play Tabla with Manoj
Manoj is from South India and is a passionate tabla player. He started learning tabla at the age of 25 from the legendary master HP Ramamurthy in Chennai for 1.5 years.
At present, Manoj is based in Dubai and getting advanced guidance and training from Master Vikram Gandharv of Chandigarh who is a student of the legendary artist, Pandit Nayan Ghosh.
Classes by Play Tabla with Manoj
Reviews on Play Tabla with Manoj