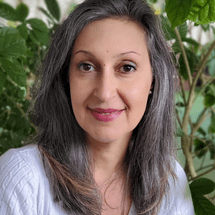 Nellie Parsons
Nellie Parsons is a pianist, an accompanist, as well as a music coach. She will guide you in achieving the best stylistic and musical expression for your performance.
She earned her bachelor's degree in piano at the Professional Performing Arts School in Burgas, Bulgaria, and her Master's at the National Music Academy in Sofia, Bulgaria. She is also a holder of a Fellowship with Trinity College of Music – London.
Her professional and teaching experience of over 30+ years includes accompanying classical singers and solo instruments such as violin, flute, saxophone, and many others, for their concert performances and exams with Trinity College of Music-London and ABRSM with an excellent track record of distinction results.
Her students have been accepted at some of the most prestigious Music Colleges in the US and Europe, such as Berklee College of Music - Boston, San Francisco University - CA, Manhattan School of Music – NY, and others.
Classes by Nellie Parsons
Reviews on Nellie Parsons