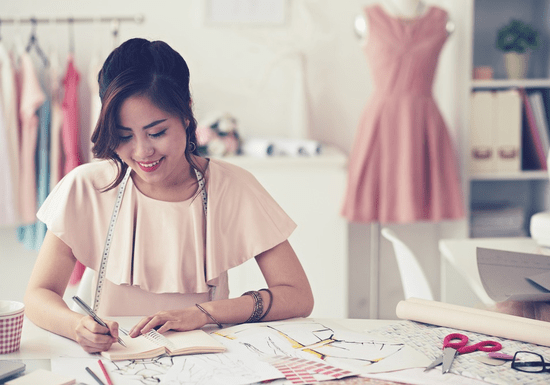 Description:
If you're a teen fashion enthusiast with a savvy sense of style and passion for designing clothes, there is a dedicated course for you to make your fashion design dreams a reality!
This online 16-hour (8 sessions x 2 hours) full fashion design course for beginners is a comprehensive guide to design and illustration styles that will prepare you to be a creative fashion designer. You will gain knowledge on both traditional sketching and up-to-date design concepts to jumpstart your portfolio. You keep track of your progress in your "design journal" where you compile your original sketches as you progress through the lessons.
Experienced fashion designer and architect Rita Nicolas will not only share her expertise but also her experiences as she struggled with freehand drawing at the start of her career. Lessons are structured to combine both theoretical and realistic approach to fashion design, and can be taught either in your preferred language: Arabic, English, or a combination of both.
What you will learn:
Accurately sketch a 9-head croquis fashion figure
Get familiar with fabrics and garments
Employ fashion theories
Understand its historical perspective
Apply the elements and principles of design in a creative process
Course Outline:
Lesson 1: The introduction to the world of fashion design
Lesson 2: Hands-on learning on how to draw the fashion mannequin figure
Lesson 3: Exercises to demonstrate the human anatomy and its role
Lesson 4: How to render different styles, textures, shapes and gestures
Lesson 5: Garments and the way to illustrate them on a male or female fashion figure
Lesson 6: Sharpening of drawing skills on different fashion poses
Lesson 7: Colors and creation of a new fashion profile
Lesson 8: Themes, surroundings, and effects
Lesson 9: Starting of a portfolio design
Lesson 10: Creation of a collection to enrich your portfolio
Lesson 11: Implementation of the design and fashion approach
Lesson 12: Final analysis and critic
Materials:
* Students need to bring their own A3 Sketchbook, color markers, colored pencils, felt tip pens, tracing paper, sketching pencils, eraser, 12-inch ruler, watercolor box, brushes (0.1 round, 0.5 square, 0.6 round, no12 round), watercolor pencils and ink pens (01, 03, 05, 08) for the sessions
* Any additional materials required during the class will be communicated by the instructor
Cancellation Policy:
48 hours prior to course start with full refund
Age Requirements:
12 - 15 years old
Additional Info:
* Upon booking this class, the instructor will contact you to schedule the time. Following this, you will be set the link to the online portal where the class will be conducted
* Lessons can be taught either in Arabic, English, or a combination of both
Location:
Online Class
Dubai
Reviews
Hanan Khan
Tue, 27 Jul 2021, 2:52PM
"I liked learning about the floor plan as it helps in designing and planning the arrangement of creating any room I want to design in the future. Great teacher!"
Sama Taqqali
Thu, 20 May 2021, 4:52PM
"The course is really interesting and fun. Having it online in the comfort of your room helps with making the students more interactive and confident. The teacher is very patient, kind, encouraging, and always pushing me to do my best work"
Chandre Oosthuizen
Thu, 22 Apr 2021, 1:23PM
"It's a bit hard to do online course but I did learn a lot and the teacher is very helpful"
Show More