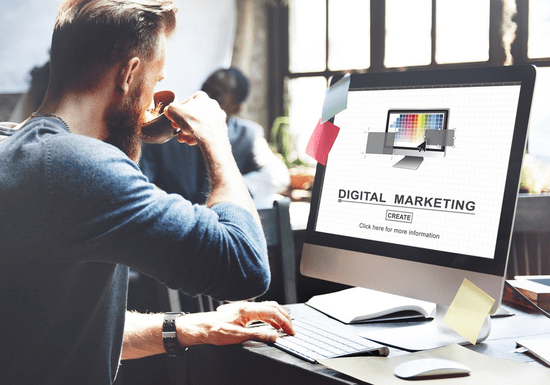 Description:
Explore digital marketing concepts, strategies, tips, tools, and implementation in detail with this comprehensive, online/live digital marketing training program.
This online course provides a detailed understanding of planning a website, online marketing, search engine optimization (SEO), Google My Business, Google Ads campaigns, tracking the results using Google Analytics, content marketing, social media marketing, advertising, and integrating digital marketing with traditional marketing.
Learn the essentials of building an effective digital marketing strategy and its practical implementation with real-world examples over 5 days with Najam Ahmed, a certified instructor with 20 years of experience in the field. In addition to the live sessions, you can have an extra 2-hour, 1-on-1 session with Najam to discuss questions, concerns or challenges.
Course Outline & Learning Outcomes:
Digital Marketing 101: An overview of all the platforms covered by the umbrella term i.e. 'Digital Marketing'
SEO – Search Engine Optimization: Understanding 21 practical SEO strategies to bring your website on top of Google search results with practical examples
YouTube SEO: Improving your YouTube videos' visibility online
Google Ads – Search & Display Advertising Campaigns: A step-by-step practical approach for launching, monitoring and optimizing your Google Ads campaigns.
Google My Business: Connecting your business with local customers by optimizing Google My Business/Google Maps listings
Content Marketing: Inbound Marketing Concepts and its Implementation
Social Media Marketing: Developing a social media marketing strategy using Blogs, Facebook, Twitter, LinkedIn, Instagram and many other tips and tools.
Social Media Advertising: How to effectively create Facebook, Instagram and LinkedIn Paid Advertising campaigns
Google Analytics: Tracking your success and improving your campaigns' performance by tracking the results
Materials:
All materials will be provided
Cancellation Policy:
48 hours prior to course start with full refund
Age Requirements:
18 and older
Additional Info:
* Upon booking the course, the instructor will contact you to provide the link to the online portal, where the class will be conducted
* After completing the course, you will be able to get certified by Google, HubSpot, and more
Location:
Online Class
Dubai
Sorry, this class isn't available at the moment. Drop your email and be the first to know when it comes back!
Reviews
Jessica Savage
Sun, 2 Feb 2020, 9:38AM
Betsy Cordova
Fri, 13 Dec 2019, 12:17PM
"Great instructor, very useful information! Good start for me to do my own research and look to develop my knowledge further."
Iona Stanley
Tue, 24 Sep 2019, 9:35AM
"Najam is an expert, and generous with his knowledge, skills and time. Makes for a great teacher, and a very informative/educative class. "