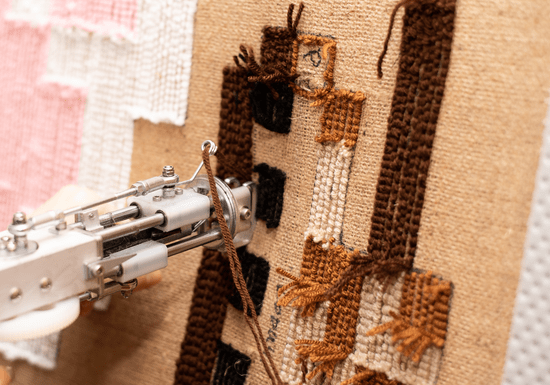 Description:
Looking for a fun and rewarding way to express your creativity?
Join our highly anticipated 8 hours tufting workshop, specifically designed for newbies who want to learn how to tuft a rug!
The instructors will guide you through every step of the process, from setting up your primary cloth to creating your design.
Not only will you walk away from this workshop with a stunning rug that you created yourself, but you'll also have the skills and knowledge to continue exploring the world of tufting on your own.
In this workshop, you will learn the following:
Basic guidance on how to set up your tufting frame
How to work with your primary tufting cloth.
How to use a tufting machine.
Techniques for creating different textures and patterns.
Basic finishing guidance on cutting, glueing, and finishing your tufted rug.
Troubleshooting, including a 15-minute Q&A session.
Included in the Workshop:
Yarns to use at the workshop.
Primary and secondary tufting cloth.
Light snacks and beverages.
20% discount at the Handmayk Outlet (on the workshop day).
Safety Precautions:
Like many other art mediums, tufting has side effects that may impact your health.
Please consider taking some safety precautions if needed.
Noise:
The sound of the tufting machine is similar to a loud sewing machine.
You can tuft using earplugs or noise-cancelling headphones.
Fiber Inhalation:
Yarn is made of loose fibres that are rolled together to create a continuous strand.
When the fibre moves through the head of a tufting machine, it sheds, causing you to breathe in small amounts of those shed fibres.
The lasting effects of inhaling yarn shedding vary depending on how frequently you tuft.
Regardless, we recommend wearing a mask while you tuft.
Adhesive Toxicity:
Adhesives range in toxicity levels and odours; some can pose a respiratory threat.
We recommend applying adhesive in a well-ventilated area and wearing a mask and gloves during application.
Body Pain:
Tufting machines can be heavy.
If your wrists, feet, or back start to ache, take a break and stretch!
We recommend practising good posture while tufting.
Materials:
All materials will be provided
Validity Period:
All sessions are valid for 45 days upon booking
Age Requirements:
18 and older
Additional Info:
The following is not included:
Tufting machine (will provide for use during the workshop).
Tufting frame (will provide for use during the workshop).
Finishing tools such as twill tape, adhesive etc.
Please prepare the following:
Tie up long hair.
Don't wear dangling jewellery.
Comfy closed-toe shoes are a must for your safety.
The workshop area will be air-conditioned, so you may want to bring a light sweater.
Location:
Warehouse 6, Mashallah Warehouse Complex, Nadd Al Hamar, Dubai, United Arab Emirates
Nadd Al Hamar
Dubai
Handmayk
Reviews
Nadia Mukadam
Thu, 22 Aug 2019, 8:30AM
Mariam Sulaiman
Sun, 22 Sep 2019, 3:11PM
"I enjoy the class, so much fun and a great instructor very helpful and expert "
FEDERICO AL RIFAI
Fri, 11 Oct 2019, 5:29PM
"Very useful "
Show More