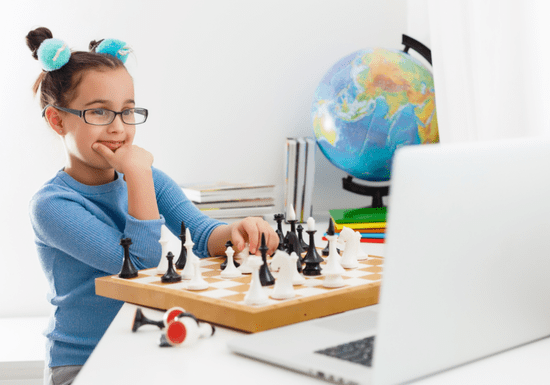 Description:
Mind sports keep your mind active, and chess is the perfect place to start!
This private online class is designed for all levels, from absolute beginners to intermediate players looking to develop their skills further.
Experienced coaches will walk you through the right techniques and rules on how to play and win at a chess game! The sessions will be customized according to your learning goals and level of experience.
Course Outline for Beginners:
Section 1. Introduction to chess and Rules of the Game and a Few Checkmates
1. The Board Reading
2. Pieces (Names & Values of the pieces)
3. Purpose of the Game: Checkmate
4. Attacking & Capturing
5. Special Moves (Castling, Promotion, En Passant)
6. Choices When a Piece is Attacked
7. Check
8. Checkmate
9. Stalemate and Other Draws in Addition to Stalemate
10. Touch Move
Section 2. The Basic Opening and Trap
1. King Pawn opening,
2. Danish Gambit
3. Scotch Gambit
4. Ruy lopez
5. French Defence
6. Caro Kan Defence
7. Owens Defence
8. Alakhine Defence
9. Sicilian Defence
10. Evans Gambit
11.Queen Pawn opening
13.Queens Gambit accepted
14.Queens Gambit Declined
15. Kings Indian Defence,
16. Nimzo Indian Defence
17. Scandinavian Defence
Section 3: The Middlegame and Tactics
1. The Profitable Exchange
2. Counting Attackers and Defenders
3. Trades
4. Twenty Commandments
5. Basic Tactics
6. Forks
1. Pins
2. Skewers
3. Discovery
4. Overload/Attacking the Defender
5. Mixed Tactics
Section 4: The Endgame, and More Checkmates
1. General Ideas
2. Checkmate Puzzles
3. Few Endgame Ideas in More Detail
4. Promotion and Zugzwang
5. Square of the Pawn
6. Pawn Endgames
Skill Level:
Beginner & Intermediate
Materials:
All materials will be provided
Validity Period:
All sessions are valid for 4 months upon booking
Age Requirements:
5 and older
Location:
Via a video calling app
Online Class
Dubai
Reviews
Malou Fideles
Mon, 12 Jul 2021, 2:38PM
"Great instructor..."