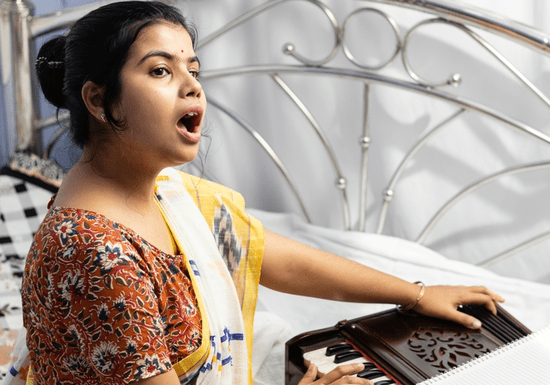 Description:
Embrace the beauty of tradition with modernity by learning Indian classical singing!
Carnatic music is a significant genre of Indian classical music that has grown in global popularity, with people around the world performing, teaching and learning this singing form. In these private online 40-minute sessions (4 in total), you will gain knowledge and confidence in recognizing diverse melodies and rhythm. You can discover your natural scale of singing and your ability and velocity of variation will improve.

What you will learn:
Ragas - Musical Notes

The 7 Swaras of Carnatic Music
Permutations and Combinations of Swaras
Aarohanam and Avrohanam Ragas (Ascending and Descending Notes)

Tala - Rhythm

7 Types of Tala
The literal meaning of tala in Sanskrit is a clap. Tala is responsible for Carnatic music's beat and rhythms. Vocalists in Carnatic music keep track of tala by tapping their lap with their hands. There are 7 types of talas in Carnatic music. The talas of Carnatic music are unique, and they make the music enjoyable.
The class can be rebooked as needed to develop your skills and achieve musical mastery!
Materials:
All materials will be provided
Validity Period:
All sessions are valid for 45 days upon booking
Age Requirements:
18 and older
Additional Info:
Students should have a quiet space for singing and practice at their location
Location:
via Zoom or alternate video-calling app
Online Class
Dubai
CHECK AVAILABILITY