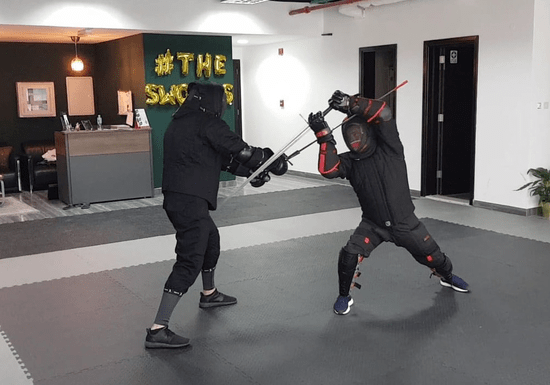 Description:
Strike and shield! Fight like the heroic soldiers that once fought brave and strong for their kingdoms and learn the ways of the sword that was used to survive on the battlefield!
This class brings back old Historical European Martial Arts back to life that you can practice in a safe and competitive environment. Dressed all in black, you will experience the fun and excitement of training with the famous Longsword, Pirate looking Saber, the elegant Rapier and how to attack and simultaneously defend with a Sword & Shield.
The class is held in a private setting with just you and the instructor. The class has 5 sessions with 1 hour each.
All the weapons will be used in a safe manner without injuring yourself. All equipment has international safety certificates. So book now and start your macho sword training today!
Materials:
Students should come in comfortable clothes
Jacket, mask with overlay, pants, socks, gloves, and sword will be provided during the class
Validity Period:
All sessions are valid for 90 days upon booking
Age Requirements:
18 and older
Additional Info:
This class can also be offered at the customer's premise anywhere in Abu Dhabi
Location:
ADCP Tower D, Room #802
Zayed The First St. (E11)
Al Danah
Abu Dhabi
Sorry, this class isn't available at the moment. Drop your email and be the first to know when it comes back!
CHECK AVAILABILITY