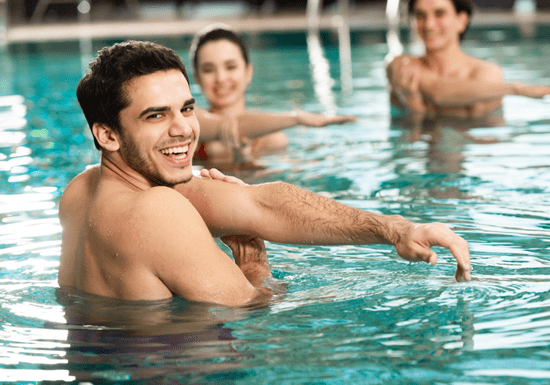 Description:
Water aerobics is the performance of aerobic exercise in water, done mostly vertically without swimming, and typically in waist-deep water.
Join this class to get a host of benefits, without the drawbacks of typical exercise, as you lose weight, get stronger, and improve your fitness levels without putting much strain on your joints. This private class is also ideal for people with mobility issues as the water supports the joints, allowing you to get stronger without putting yourself at risk of injury.
Choose between 1 session to try out the sport or 6 and 12 sessions to make some noticeable progress. Each session lasts for 1 hour.
Materials:
Training equipment will be provided by the instructor.
It is recommended that students bring a bottle of water with them.
Validity Period:
All sessions are valid for 4 months upon booking
Age Requirements:
15 and older
Additional Info:
Students must have access to a pool for the purpose of this class.
Location:
At Your Premises
Anywhere In
Abu Dhabi
CHECK AVAILABILITY