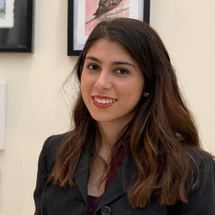 Natalia Martinez Anaya
Natalia is passionate about nature and art - and uses this to inspire her audience to conserve and cherish nature. Among her favorite techniques is watercolor - and she uses pastel colors and textured paper to give her work a more realistic touch. Each of her illustrations has a personalized story that she does not reveal, so her audience can use their imagination and find their own deeper meanings.
Natalia graduated from the American University in Dubai and earned a BFA in Studio Art.
Natalia has exhibited at the Embassy of Mexico, her university, and the FN Design Gallery in Al Serkal Avenue. She has also participated in the 'Artist Alley' in the Middle East Comic-Con in 2019.
Natalia currently works as an art facilitator at Manarat Al Saadiyat Museum, and as a
freelance artist.
Classes by Natalia Martinez Anaya
Reviews on Natalia Martinez Anaya