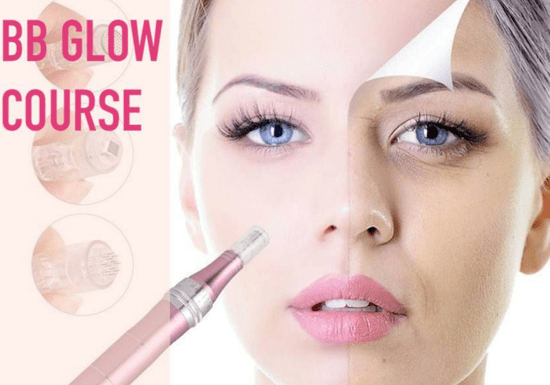 Description:
Stay up to date with the latest beauty trends as a beautician, stylist or personal beauty hobbyist with this specialized course!
BB Glow is one of the latest anti-aging beauty innovations. It serves as a semi-permanent foundation for your face to safely and effectively conceal skin imperfections without daily maintenance. It uses scientifically proven nano needling technology to safely infuse nutrient- rich tinted BB cream into the top layer of your skin using state of the art equipment. It is purposefully designed to provide light-to-medium coverage to camouflage all your facial imperfections including hyper-pigmentation, redness, dark circles, and large pores.
The process is safe and the nano needling technology does not go deep beneath the skin. It stays on the top layers of the epidermis, and is exfoliated off in a few days.
In this 8-hour course (2 sessions x 4 hours), you will learn to apply this treatment from expert beauticians in a personal setting. To ensure proper attention is given to each participant, classes are given individually or in small groups with up to 3 participants depending on your availability and time preferences.
Course Outline (Theory & Practical):
Anatomy and face skin types
Skin physiology
Introduction of the BB products ,types of pigments
Written documentation (treatment card)
Skin conditions introduction
The principles of aseptic and antiseptic hygiene
Purpose of the treatment and the obtained effect
Assessment of customer expectations
Contraindications for BB Glow treatments
Preparation of clients and positions for the procedure
Application rules for anesthesia
Possible complications after treatments
Demonstration of the procedure on the model
Hands on training
Exam
Materials:
Participants should purchase the BB Glow Machine Kit for an additional fee of AED 1050 to be paid directly to the center. The Kit is for student's permanent use.
Validity Period:
All sessions are valid for 30 days upon booking
Age Requirements:
18 and older
Additional Info:
At the End of Exam, the trainees will be granted:
Professional Certificates, attested by KHDA (Dubai Authority)
Friday classes can be arranged upon request, depending on availability of the instructor
This class can be conducted in English or Arabic
Location:
Sahara Centre Mall
Ground Floor
Al Nahda
Sharjah
CHECK AVAILABILITY