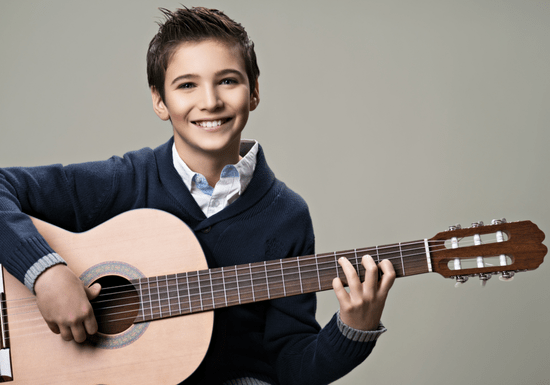 Description:
Do your kids love to play with toy guitars and envision themselves as rockstars? Here's their opportunity to start their musical journey with guitar lessons!
The guitar is a fretted musical instrument that typically has six strings. It is held flat against the player's body and played by strumming or plucking the strings with the dominant hand, while simultaneously pressing selected strings against frets with the fingers of the opposite hand.
In this 1-hour, private lesson, they'll learn how to play the guitar methodically and effectively. They'll strum their way to acquiring the skills required for this popular instrument! Beginners will learn the basics and how to practice their skills. Intermediate to advanced learners will explore advanced skills, improvise their music and refine their existing skills.
Choose between 1, 3 and 6 sessions. These lessons can be customized according to your kids' goals and rebooked as many times as required.
What they will learn:
How to hold the guitar & fundamental tone settings
How to tune the guitar
How to read guitar tabs
Use songbooks, chord diagrams & charts to deepen your understanding
How to read guitar sheet music
How to read scale diagram
Beat basics
Whole, 1/2, 1/4th, 1/8th & 1/16th note exercises
How to play power chords
Beginner chords, strumming patterns
Shorter versions of common chords
How to play barre chords & dominant 7 chords
Beginner guitar boogie palm muting technique
How to play hammer-ons
Materials:
Students should have their own guitar
Validity Period:
All sessions are valid for 60 days upon booking
Age Requirements:
6 - 17 years old
Additional Info:
A participation certificate will be provided after completion of sessions
Location:
At Your Premise
Anywhere in
Sharjah
CHECK AVAILABILITY